Testimonials and Referrals
What our clients are saying about KIARO Computer Solutions…
---
To put it simply, KIARO Computer Solutions ROCKS! We cannot say enough about the professional, creative, and totally satisfying way that your creative team handled the re-creation of our corporate website. Step by step from the original design to the finished site you always responded quickly and offered us a wealth of professional expertise to solve every problem. And as we both know it was not a simple task to create a superior user and search engine friendly site for Clayton's worldwide network of companies. Page after page and through our extensive graphic and mapping sections your skills proved exceptional. Your dedication and professionalism overcame every obstacle and resulted in an excellent finished product. The new site has been greatly received and is a tribute to you and your team's efforts! We look forward to continuing our relationship with you in the future to keep the site fresh and dynamic!
Anyone interested in contacting me directly for a personal testimonial should feel free to do so. KCS is the real deal in the world of website design and implementation!
Andy Wales
Western Regional Sales Manager
Clayton Industries
---
I would say you guys are a great value! Thanks again for all of your patience… and all of the help!  
Shelley Wisnowski
Vice President of Business Development
Select rehabilitation
---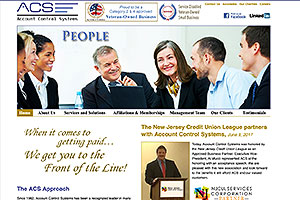 Nick,
I would like to thank you and your creative team on your accomplishments in creating an exciting web site for our company. I especially appreciated your organizing the information so that the site is easy to navigate, delivering our message clearly and quickly. I believe this new site will not only impact our online market presence, but also define our services to our target audience.  
Joseph W. Vitale
President
Account Control Systems Inc.
---
I came to Nick with a project that started as a simple website for a new venture I was going to open. As we went through the planning of the site's layout, I realized how much more complex this website needed to be. We needed a content management system "behind the scenes" so we could update photos, menus, events and the like so what started as an easy site, suddenly turned into a fairly large undertaking. KCS jumped in with both feet!
Nick was nothing short of brilliant in not only putting together our website (that is CONSTANTLY getting compliments!) but most of the graphics that we ended up using. Our ability to update our site is amazing due to the way KIARO Computer Solutions set it up. His follow up and attention to detail was amazing.
I couldnt imagine looking elsewhere for ANY of our website needs with this site or future sites that we may need.  I've recommended them to many and will continue to do so. I've worked with several web designers and KCS, by far, exceeds all expectations. They take a lot of pride and sense of ownership in their projects which is hard to find in this day and age.
Dave Danhi
President/Chef
The Grilled Cheese Truck
---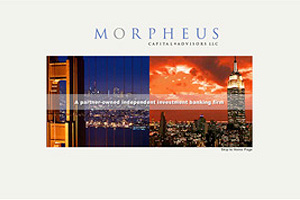 Nick Chiacchiaro and his team at KIARO Computer Solutions made the daunting task of designing and developing a new website for Morpheus Capital Advisors a very smooth and seamless process. Nick's high level of professionalism, great attention to detail, deep technical knowledge and timely turn around can be seen from the very beginning of the project to its final delivery. His friendly demeanor and "can do" attitude made for an unbeatable combination. Nick was an incredible leader and partner to getting the job done.
Carol Maisto
Graphic Designer
---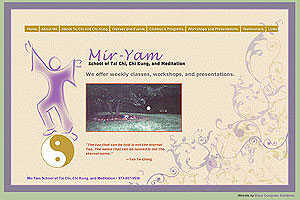 I get compliments on the site you did for me all the time!!
Miriam Moran Shankman
Owner
Mir-Yam School of Tai Chi, Chi Kung and Meditation
---
Thanks so much for your creative and professional handling of my AKA chapter's website. Your attention to detail and prompt response to our requests was great. Everyone is excited and happy to see the results. You came through for Omicron Xi Omega Chapter of Alpha Kappa Alpha.
And the you did it again for The Sicckle Cell Association of NJ!
I tell everone to go to
KIARO Computer Solutions
for great work done by great people who make it happen.
Mary Bentley LaMar
Nominating Chair, Omnicron Xi Omega
and Director, Sickle Cell Association of New Jersey